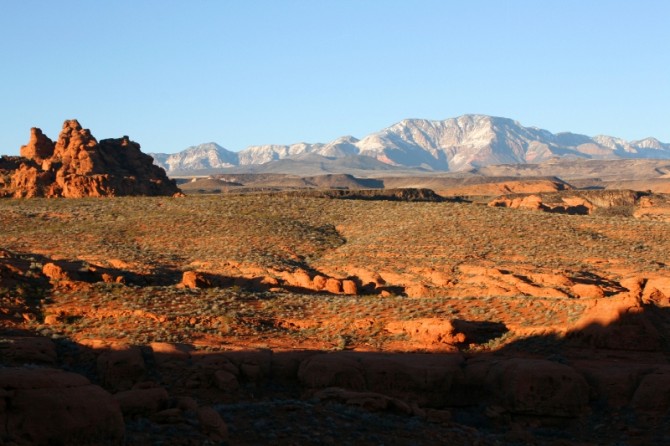 The day started out early and even though there were still a lot of clouds in the sky, it was obvious it was going to be a great day for hiking. I have personally spent a lot of time hiking various trails throughout the United States and I had always had a desire to hike trails in Southern Utah. More specifically, I had heard a lot about the Red Cliffs Desert Reserve and I wanted to have a chance to see it for myself. Therefore, I made the decision to quit putting things off and finally make the trip. I went with a group of friends and we decided to make a real trip out of it. Our goal was to eventually reach Beck Hill but we were open to any type of adventure that would come along the way.
There are many things about the entire Paradise Rim area that intrigue me. We started out on the south side of the trail and made the decision to hike all way to the north end because the entire trail is just over a mile in length. However, I did not fully understand that there are many trails that loop into it so in reality, we really wound up spending several hours hiking the different areas. Overall, we found that the trail was not too hard to hike but there were definitely some parts that had their fair share of challenges. There are some mild elevation changes although there was nothing too spectacular and the trail itself is hard packed, enough that we even saw people riding dirt bikes out there. This does make it a lot easier to walk on when compared to some other trails that we had previously hiked.
One of the best things about several of the locations in the area are the scenic overlooks. I was definitely not prepared to fully appreciate the view of the metropolitan area that exists from the trails, but once I got there I found it to be absolutely breathtaking. The trail itself did not change in elevation all that much, but there are many steep drop offs right on the edge so it provides for a spectacular view and it is also enough to make sure that you pay attention to what you are doing the entire time. I would definitely not want to go off one of those cliffs.
All in all, this is definitely a trail system that I would recommend for anyone else that has done any hiking before, even those who are relatively inexperienced. We were able to complete the hike of the main trail in just over an hour but then we branched off and spent the majority of the day looking at connecting trails and simply wandering around the area. There are a lot spectacular views that we were able to enjoy. We decided to make the hike in the spring and even though we were in the desert, there were a lot of beautiful spring flowers that were growing in various locations. This gave the whole desert a pop of color that I really did not expect to see. It was definitely a welcome sight and it added to the joy of the entire experience.
Map
Gallery